Have a Merry Christmas

Monday, 9 December 2013 | Victoria

So with Christmas just around the corner and all the hustle and bustle of buying presents for relatives who live all over, there is an increased demand on the postal and courier services throughout the UK. It is important to us all that during the festive season everything runs as smoothly as possible so we all have a great time, and here at UK Postal Packaging that is no different.
We know that sending our loved ones Christmas presents through the post can be worrying for even the most relaxed of people, 'Will it get there on time?', 'will it get there at all?', 'what if it gets damaged?'. These are all questions we ask ourselves that fill our heads with panic during this season of good will, so our job is to try and minimize those worries as much as possible by providing our customers with a great servi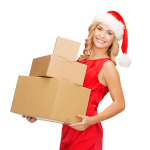 ce which provides top quality, strong and durable packaging materials for all your postal needs. Let's be honest, knowing that your parcel has been sent in the best protective packinging possible is a weight off the mind, leaving you with more time to worry about whether you want gammon or turkey for Christmas lunch or if you have enough chairs for all your guests on the special day.
So what about those who send a vast number of packages out on a daily basis? Well, depending on your business, chances are orders are coming in thick and fast with people preparing for the Christmas holidays so now more than ever does reliability of your packaging materials have such an increased impact. Here at UK Postal Packaging we understand that which is why we are proud to offer our fantastic products at super, competitive prices so not only are your worries eased about your products getting damaged in transit, but the effect on your bank account has very minimal impact too. Not bad eh?
View some of our most popular products right here...

Follow my blog with Bloglovin