Meet our Partner Websites

Thursday, 24 October 2019 | Charlotte
When trying to decide on material for my blogs I always look to a topic that not only represents our products but is also of some interest to our customers and can benefit them when making future purchases. With this in mind, it has become apparent to me that of all the Blogs I have written, I have never introduced our UK Postal Packaging customers to two great resources at their disposal, First for Paper and Rapid Address Labels.
UK Postal Packaging has two Partner Websites, First for Paper and Rapid Address Labels. Both of these Partner sites have strong independent product ranges dedicated to Paper and Labels but at the same time hold a mutual relationship with UK Postal Packaging supplying complementary stocks and associated products that can cover a wide range of applications and help support you either at home or in business.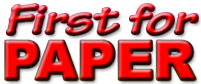 At First for Paper we have over 40 years experience in supplying paper and related products to businesses, craft workers, schools, hobbyists and scrapbookers alike. We supply a vast range of paper and card from White, Coloured, Pearlescent, and Translucent to Textured, Patterned, Carbonless and Recycled. Most of our paper and card is supplied in many popular sizes such as A6, A5, A4, A3, A2, and more, we can also cut to bespoke sizes if required. We also supply and distribute Pre-Creased Cards, Envelopes, Cello Bags, Film Rolls, Adhesives and a myriad of other related products.

Why not take a look at our Packaging Grade Materials these consist of Greyboard and Manilla board, white lined chipboard and Kreative Kraft card. All these products are perfectly designed for packaging materials as they are strong, durable and multi-purpose. With a printable side on both the Chipboard and Kreative Kraft they are excellent for printed packaging whilst the Manilla, Greyboard and chipboard are also useful for backing board to add extra protection to products. We also hold stocks of digital blank office labels a great solution to sending out multiple packages with different addresses.

At Rapid Address Labels we have almost 40 years experience providing a successful Label printing service. Our range currently includes Personalised, Royal Mail PPI, Message and Despatch labels for businesses and private customers alike throughout the UK. Over time we have gained customer satisfaction which allows us to proudly offer a wide range of sizes, label colours and print colours which can all be personalised to meet the needs of individual customers. Our labels can be used for anything from personal address labels to packaging labels and we are very proud to have such a high percentage of returning customers.
As a UK Postal Packaging customer our product range at Rapid Address Labels could be of great benefit. Maybe you use UK Postal Packaging for your distribution requirements, why not order some Royal Mail PPI Labels so you can save on postage costs when sending out your packages and also avoid the inconvenience of running out of stamps. Our Message Labels are a great way of warning as to the protection required for your package contents i.e. 'Fragile' and our Despatch Labels are really handy, the upper part of the label is left blank for you to hand write the delivery address and the lower holds your return address.
Whether ordering supplies for crafts, schools or business, First for Paper, Rapid Address Labels and UK Postal Packaging hold materials covering a myriad of applications. Visit our Partner websites, First for Paper and Rapid Address Labels to view our fantastic product ranges.