Protect your heavy goods effectively for despatch.

Thursday, 16 May 2019 | Charlotte
A couple of months back we produced a Blog called "Packing Smart - Size matters' in which we looked into the environmental effects, size appropriateness and cost of not packaging goods suitably for despatch. This month we are looking at how to protect those goods effectively on route to their destination.

Over the years, by shipping heavy but delicate items such as paper and envelopes for our sister company First For Paper, we have learnt the importance of protecting our goods; this becomes more
apparent the heavier the item. When packing large heavy items for shipping it is essential to try and centre your product within the packaging, one to keep the carton balanced and two to keep the corners of your shipped item from getting knocked (obviously if you are packing soft items such as clothes this isn't such a priority). Try and package your item in a slightly larger carton to achieve this and pack around the item to create a 'crush zone' so if your shipment is dropped at any point your product is protected. When shipping heavy items it is essential to make sure your outer carton is double walled (boxes that are made of two layers of fluting rather than one) as these boxes have a greater strength and rigidity. Always Tape your boxes with good quality wide packing tape. Seal all seams of your carton bottom and Top. When sealing the top try and overlap with the tape you placed on the base of the box as tape secures better to tape than cardboard and try to seal all the seams.
We have a few great items in stock here at UK Postal Packaging that can help you with your internal protection once you have chosen your outer packaging.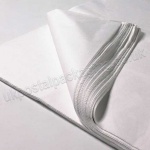 Tissue Paper is a cost effective solution for protection of delicate products, which require a PH neutral wrapping. Ideal for interleaving, stuffing down the side of small boxes & wrapping.
Our rolls of small Bubble Wrap are 100 metre long and provide perfect protection for delicate and fragile goods. One of the most popular packaging products, bubble wrap forms a protective cushion around your product to ensure it arrives intact. It can also be rolled to make a good economical void fill.
Polystyrene Loose Fill packing chips are also a great solution to filling any void i.e 'crush zone' around your product when boxed, they are durable and provide a great cushion whether your product is light or heavy.
Key Points to always remember when shipping heavy items, use a strong Double walled outer carton, seal well with a good quality tape and make sure you fill your crush zone.