Strong and Crafty - Rigid Kraft Envelopes

Tuesday, 9 April 2019 | Charlotte
Here at UK Postal Packaging we would like to share with you a great packaging solution with many applications suitable for business use or at home.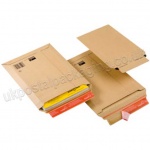 Our range of Rigid Kraft Envelopes are a selection of strong cardboard envelopes made from durable corrugated cardboard, providing a good layer of protection for posting lightweight items. Rigid Kraft Envelopes are bend resistant and expand in depth (thanks to pre-creased grooves) to provide a snug, secure and accurate fit for your product. These grooves also add excellent edge and corner protection preventing damage to stock, without the need for void fill or any additional packaging.
Manilla in colour, we hold two brands of Rigid Kraft Envelopes, EzePack and ColomPac. Both have strong adhesive strips that saves valuable time packing and further sealing. They also have a handy tear off strip for quick and easy opening. We stock 5 popular sizes in the EzePack brand 200 x 400mm, 280 x 200mm, 339 x 234mm, 350 x 265mm and 500 x 350mm. ColomPac is stocked in 7 sizes 268 x 167mm, 288 x 200mm, 310 x 229mm, 357 x 265mm, 375 x 262mm, 413 x 303mm and 518 x 353mm. Both brands come in handy packs of 20.
Applications are many and varied depending on the size of the item you wish to despatch. These envelopes are suitable for mailing bulk photos, certificates, magazines, mail order catalogues, contracts, providing protection from tearing and creasing. Maybe you have Large or thick business documents you need to send, books, CD's or DVD's, whatever your requirement here at UK Postal Packaging we have a Rigid Kraft Envelope for you.